It was in Kodaikanal that I first thought of making an Orkut community dedicated to Idlis. Perhaps it was the air of Nilgiris which brought out the romantic in me and I decided to give my love for Idlis a name which world could reckon with. I love food and for me the greatest creation of God is the tomato but I am not weird like Gopi who wants to have, er, sex with a watermelon!
As the air of Kodaikanal got replaced by air of Hyderabad, the romance fizzled out and the community was never created, but the love persisted.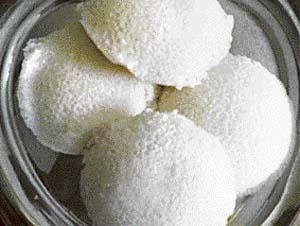 In my North Indian life in 90s, any South Indian food was a 'special'. My uncle who was an Airforce Officer (no, he wasn't a pilot!) was posted in Secunderabad and during their stay here, my aunty learnt to prepare most of the common stuff like Idli, Dosa, Wada, Sambhar and Rasam (Note my respect for food, all items start with a capital!).
So when they visited us in Allahabad, at times there was a complete "South Indian lunch" comprising Idlis and Plain and Masala Dosas. (After coming here I found that South Indians eat things other than Idli/Dosa and nobody eats Idlis in lunch!)
I hated Sambhar which my sister (who lived with my uncle) adored. So plain dal was prepared for me which I suspected was Sambhar without vegetables!
Dosas found special liking even while eating out. Once when Ma was not there and we were not in mood of cooking, Pa and I had a dosa in a Civil Lines.
But as I have now started caring about health (means eating different kind of junk!) Dosas were replaced by Idlis on my plate. I don't actually remember when I had a dosa last, whereas Idlis are my normal weekday breakfast. And with thick peanut chutney which makes the soft, warm and fluffy idli melt in mouth... ahh bliss!
(Next:Idli accessories)